Lent Week Two: Light versus Darkness
Hi! I hope you've survived the first week after daylight saving time began. I think I forget every year how much it messes me up. The change in the light and darkness made me think about light versus dark, how we can't have light without darkness, how the enemy wants to keep us in darkness and how we need to find out that God is the true light. 

Also, I was reading the "What to Expect When Your'e Expecting" book and saw how at 22 weeks (that's next week for me) the baby can tell the difference between light and darkness. I thought, how cool is that?! 

So that's what I want to talk about today.

Here's the verse I've been pondering:

"But you are a chosen people, a royal priesthood, a holy nation, God's special possession, that you may declare the praises of him who called you out of darkness into his wonderful light." 1 Peter 2:1

If you believe, you are here to declare the praises of God as a chosen and special possession. HE is the one who called us out of darkness into his wonderful light.

I don't know what kind of darkness you were in before you came to the Lord, or what kind you may be in now, but I know when I think of darkness, I think of the devil who is very real.
 
Ephesians 6:12 tells us, "For our struggle is not against flesh and blood, but against the rulers, against the authorities, against the powers of this dark world and against the spiritual forces of evil in the heavenly realms."

We live in a dark world and the enemy wants to keep us there, to keep us focused on things of the world so we never turn to our Savior. 

If you can get to the point where you can recognize the enemy and what he uses to bring you into darkness into your life, you can call him out and start to separate yourself from him and cling to the one who wants to save you from all that. But this can't be done with willpower, or self-talk. It must be done by putting your trust in God and having faith that he will fight for you. 

Exodus 14:14 reminds us, "The Lord will fight for you; you need only be still."

On Monday morning I was listening to a sermon about the enemy, how he's not just a figment of our imagination. But he exists. 

1 Peter 5:8 reminds us how, "the devil prowls around like a roaring lion waiting for someone to devour."

Ever since Eve was in the garden, he's been doing this and he's not going to stop. 

And where is his favorite place to attack? Our minds. 

2 Corinthians 4 tells us, "The god of this age has blinded the minds of unbelievers so that they cannot see the light of the gospel that displays the glory of Christ who is the image of God."

The gospel is the light. Psalm 119:105, " Your word is a lamp for my feet, a light on my path."

Verse 6, "For God who said, 'Let light shine out of the darkness,' made his light shine in our hearts to give us the light of the knowledge of God's glory displayed in the face of Christ."

Satan wants you to believe that there is a race and he is winning, that he is stronger. But 1 John 1:5 remind us, "The light shines in the darkness and the darkness cannot overcome it."

Once it shines, the darkness has got nothing. But you've got to cling to your faith. You've got to get that darkness that is in you – out of you.

– Go to God. Tell him you need help. You need the light to overcome the darkness.
– Go to someone who is safe and share where you've been. Get real. Be honest. Be accountable. Talk it out. 
– Write it down. Writing down that stuff has a whole other impact.
– Find a therapist who can work you through it.- Seek the Lord with all you've got. Get in the Word. – Do the opposite of what the darkness is telling you to do. Repeatedly. 
Trust the PROMISE.

John 8:12, "When Jesus spoke again to the people, he said, 'I am the light of the world. Whoever follows me will never walk in darkness, but will have the light of life."

1 John 1:5-9, "This is the message we have heard from him and declare to you: God is light; in him there is no darkness at all. If we claim to have fellowship with him and yet walk in the darkness, we lie and do not live out the truth. But if we walk in the light, as he is in the light, we have fellowship with one another, and the blood of Jesus, his Son, purifies us from all sin. If we claim to be without sin, we deceive ourselves and the truth is not in us. If we confess our sins, he is faithful and just and will forgive us our sins, and purify us from all unrighteousness."

So when you think God can't forgive you for that darkness you've been choosing and hiding in – you are not that powerful. If you confess, he is FAITHFUL to FORGIVE. I can attest to this.
 
And when you come to the other side of the darkness, into the light – remember this from Ephesians 5:8: 

"For you were once darkness, but now you are light in the Lord. Live as children of light."

I'm going to share two songs here. One is for those of you who are in the light, who can pray for those who are still in the darkness. We pray the lost in the darkness can find the light of Christ. It's called, "Let There Be Light," by Hillsong Worship.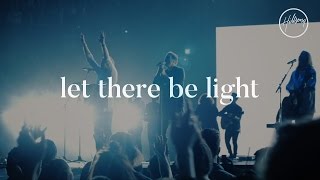 If you are someone who is still in that darkness or breaking out of it, this song is for you. I heard this song for the first time earlier this week and it just brought me chills, especially since it's from one of my favorite bands. Watch and listen. It's called, "God Only Knows," and it's from For King and Country.